Overview
Edit
In October of 2014, and in conjunction with the release of Antebellum Awakening, the second book in The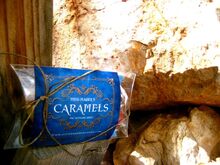 Network Series, Antebellum Publishing teamed up with Little Red Hen Candy Co. and formed a line of Miss Mabel's Caramels. Flavors include cinnamon, coffee, licorice, macadamia, pecan, pretzel, sea salt, toffee almond, and vanilla.
Ad blocker interference detected!
Wikia is a free-to-use site that makes money from advertising. We have a modified experience for viewers using ad blockers

Wikia is not accessible if you've made further modifications. Remove the custom ad blocker rule(s) and the page will load as expected.